Tradeshow Discount
You qualify for a show special!
Welcome! If you're here because you've attended HX: The Hotel Experience, we would like to offer you a special show discount.
Wall Beds Manufacturing is passionate about offering you space saving options. Our murphy style wall beds are customizable and made to your exact specifications.
Recognized as a "Preferred Vendor" by some of the finest hotel chains and property management companies in the world, we have had the privilege to work with several of the top architectural and interior design firms in the United States. Because of our relationship with these top quality hotels and design firms we have grown to be one of the largest suppliers of murphy style wall beds in the country.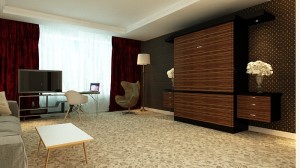 Our products are all about giving you practical, beautiful and space saving options. No matter if you're looking for a custom built bed or already see one you like, we build each and every product with you in mind, creating a piece that will fit your available space and last as long as you need it.
Our HX: Hotel Experience discount qualifies you for a 15% discount*. Simply use the code "BED15" when you call or email.
*This discount is only good for 30 days from the close of the HX: The Hotel Experience Tradeshow
---