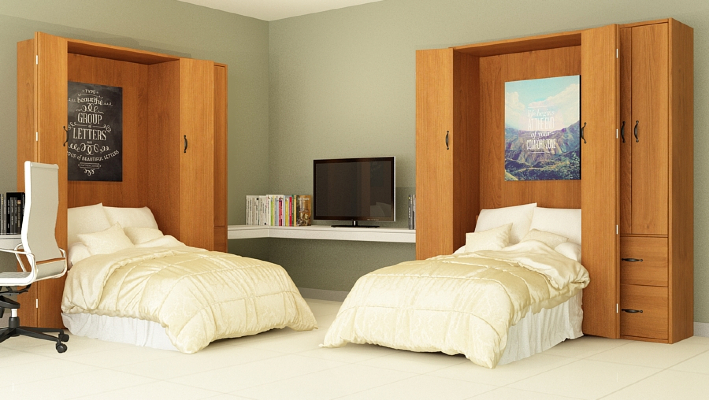 5 Pictures that Show You How to Save Room Space
With the tiny house movement, green living, and a general move toward minimalism, saving space is trendy as ever. And not only is it trendy, but it can have real, cost-saving impact.
There are places where saving space can be done, and many places where it should be done. Desks, beds, tables, and other furniture take up so much of our homes and workplaces. Wall beds are one way to save space in rooms, and not just bedrooms, but also for businesses and public places. With the right company, they can be beautifully designed and give your room a trendy "wow factor".
Hotel Rooms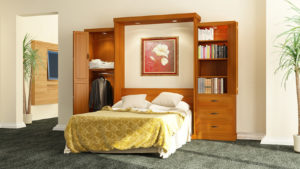 Conference rooms serve important purposes during the day, and sometimes during the evening. But at night, they are typically an empty space. On busy nights, they are wasted space, while guests are spread out across filled-up rooms all over the hotel.
Designing wall beds is a practical and cost-efficient way to save space in an otherwise empty room. The beds and the apparatus that hides them can be designed to match the ambiance of a hotel, and during the day can serve as an attractive piece of furniture. Of course, at night they can easily fold into comfortable beds for guests that might not have been able to stay if no rooms were available.
Fire Stations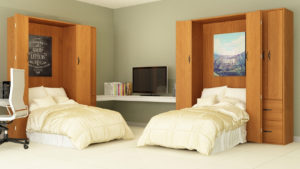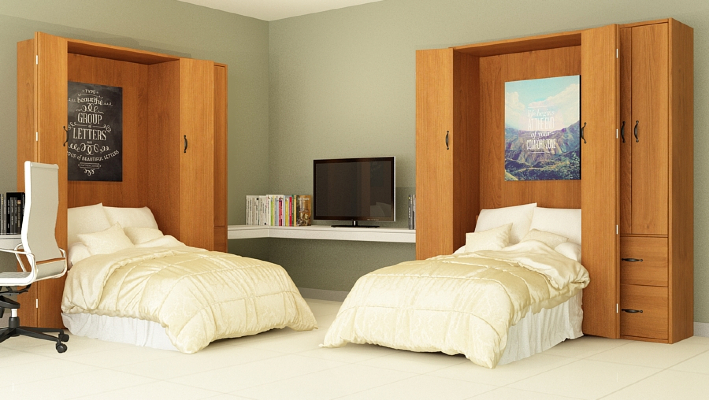 For fire departments, especially volunteers, staying within a budget can be crucial. Minimizing costs can be done through saving space. Additionally, extra space in a sleeping area or dorm gives firefighters more room to stretch out, breathe, and relax.
A properly-designed wall bed can give firefighters a place to sleep at night, and a personal storage unit during the day. Fire departments can save space by giving their employees a furnished locker and a sturdy bed, all in one.
Hospitals and Healthcare Centers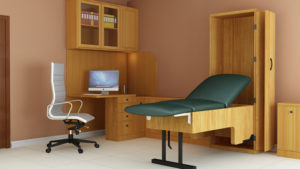 There is always an opportunity to save space and reduce costs, and the healthcare industry is no exception. Although overcrowding is not ideal, being able to create space for more patients and guests is.
Specially-designed wall beds can be made to fit exam tables. They save space by using folding beds, but also provide additional storage space for equipment, such as a closet.
Colleges and Dorms
College students are almost universally known for living in tight-knit places, whether it is an apartment, dorm, or community living space. Creating extra space will give them more room to live, thrive, and survive.
Because college dorms and apartments are small, beds tend to take up a lot of precious room. Especially in shared rooms, being able to fold up a bed is a game-changer for saving space.
Residential Bedrooms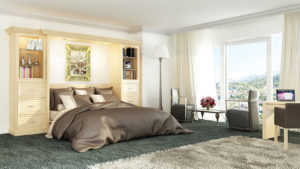 Maybe you want to make a cozy guest room and don't have a room big enough to do it. Or maybe you want to create some extra space in your apartment. At the same time, it would be nice to have some added storage space, extra shelving, or an extra closet.
Picking through a variety of differently-designed wall beds will give you options. Consider the room size, what style you are looking for, what functionality you need, and how you want to use the space provided. You may want to give your guest room a workstation and a bed, or even turn your apartment bedroom into a parlor.
Twin-sized beds are the smallest bed size by international standards, yet one alone takes up over 18 square feet of space. An efficient way to use your room is being able to reclaim that space. Be sure to check out 4 Differences Between a Wall Bed and a Sofa Bed for more info.