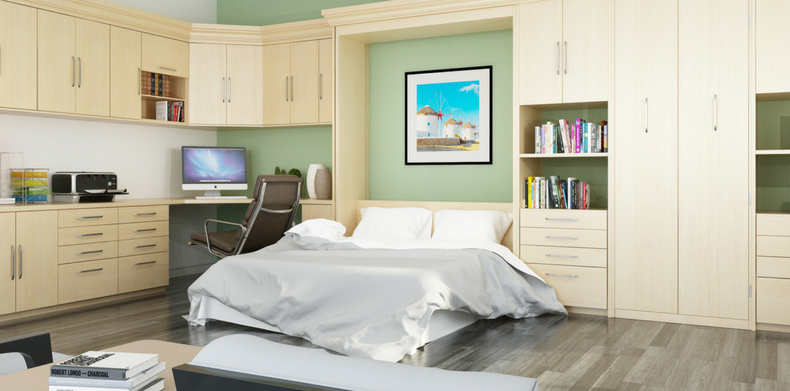 7 Questions to Ask When Choosing a Wall Bed Company
Say you are wanting to save space in your home or business. Or maybe you just want the excitement of owning a wall bed. Whatever the situation, it pays to know which companies and manufacturers are best, and which will be best for you.
Start with a few questions. Know the outcome you're looking for specifically. The right company will be incredibly easier and quicker to find.
What types of wall beds are offered?
Before you even look into investing in a wall bed, know what you are looking for and its specifics. Do you want it open straight down, or to the side? Do you want it to include storage space? How does the mechanism work?
Companies can offer wall beds for business, residential, medical, and a variety of special uses. Knowing what type of wall bed you are looking for will help you move forward and decide on some of the more specific options.
How long will my wall bed last?
This is a good question that will help you figure out the quality of the bed you are potentially buying. What kind of integrity does the bed have? Are high-quality materials used?
It is good to know how strong a wall bed is, especially in a home or workplace where it will be used frequently. A good wall bed manufacturer can build a piece of furniture that stands the test of time.
What warranty is there?
A good follow-up to the longevity question, asking about the company's warranties on wall beds makes sure you get the absolute most out of your investment. Think long term.
What reviews do other people give it?
Take a look online and see what others are saying about the company. If you know anyone who purchased one, reach out and get their opinion. See how well they like their wall bed.
What custom options do I have?
Not all wall beds are built the same, and certainly not all of them look the same. Consider what size requirements, allowable movement, or style choices you need based on the room the bed will be in. If you'd like extra benefits, like built-in storage space, factor that in also.
When you consult the company or explore their options, you'll have a better idea of everything they can offer you and how that lines up with your needs and wants.
How does the process work?
Even if time is not a factor, you'd still want to ask what the process involves for ordering and installing a wall bed. How long is the manufacturing process? Will installation cost more than the bed itself? How long will it take until the bed is installed?
Can I keep my own mattress?
Some companies may offer wall beds that cannot fit all types and sizes of mattresses. If you'd prefer to keep your mattress, or want to order a newer, different one, consider which wall beds it fits. Some may be adaptable to any mattress size, so it's important to give this sizing information to the company.
Ask these questions before getting into the details of your potential buy. You will have a better idea of what you want, then ultimately you'll choose the best company and be satisfied with your investment. Happy shopping!