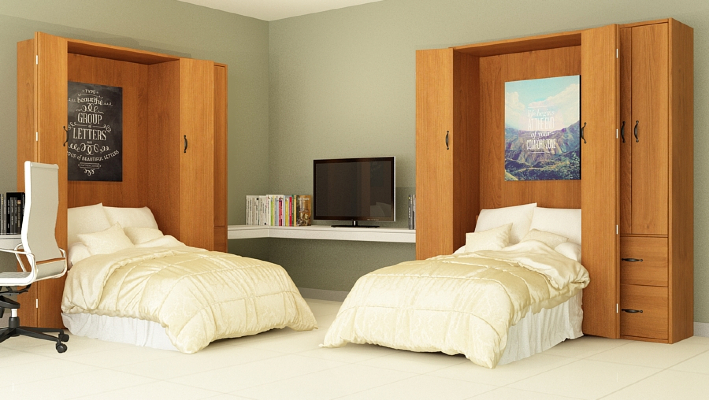 5 Common Wall Bed Questions and Answers
When it comes to purchasing a wall bed, many people have questions before diving right in. It doesn't seem as simple as buying a regular bed but surprisingly, you may find that the solutions to your questions are easier than they seem.
Here are some of the most frequently asked questions wall bed companies get. To learn more about which companies to look at, check out 7 Questions to Ask When Choosing a Wall Bed Company.
What is a wall bed exactly?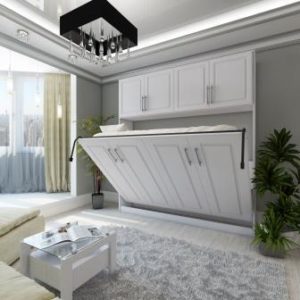 Wall beds, also known as Murphy beds, are beds that can be folded up into a cabinet or sunken space. Some common styles are panel and bifold door style, shown below, with panel on the left and bifold door on the right.
Wall beds are unlike futons and sofa beds, because the entire mattress can hinge on its frame without being folded. Futons and sofa beds contain built-in mattresses that have to be folded, and that can compromise their comfort level.
Can you use your own mattress?
Yes, wall beds are built to fit any mattress size. You don't have to give up a mattress you are used to or comfortable in, because a wall bed can fit around it. Mattresses as thick as 10 inches can be fit into a wall bed. And no box spring is necessary.
How hard is it to install a wall bed?
Installing a wall bed can take around 2-3 hours, and written instructions are included to help the process go smoothly. Installing a wall bed can be done with basic household tools, so no special tools or modifications are needed.
Surrounding cabinets and shelves could take around 1-2 hours of time to install.
Are wall beds hard to raise and lower?
With proper, smooth-functioning mechanisms, wall beds are incredible easy to raise and lower. Springs are used to make the process of pulling down, or pushing up, simple and effortless. All you need to do is grab the handle and either raise or lower the bed.
Can you design your own wall bed?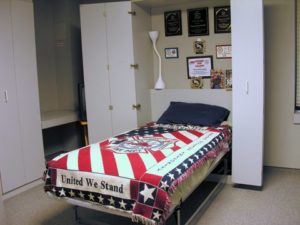 Yes, a wall bed company should be able to create a design and work through the plans and designs with you. This could be a higher-priced route, but it depends on how many features you want to include with the design.
In addition to custom design, you can often purchase the wall bed frame without the cabinets, drawers, or shelving surrounding it. This way you can save extra costs, or add surrounding furniture and be able to build your own cabinets.